Cartouche FAQ
Cartouches are elegant pieces of jewelry for everyday wear and they are great gifts!
The cartouches available for purchase on our website or in-person are made by a trusted vendor we have worked with for years. Please read through all the sections that apply to you, so that your order arrives as expected.
If you have questions about ordering your cartouche you are welcome to give us a call at 503-276-4204 when our shop is open: Wednesday through Sunday 10 a.m. to 5 p.m.
Custom Cartouches Artisan Note
Your custom pendant will be handmade to order in the ancient bazaar of Khan el-Khalili in the historic center of Cairo. Your name will be spelled phonetically using hieroglyphs. Artisans may use creative license so that the hieroglyphs fit appropriately on your cartouche. The Hieroglyphic Alphabet below offers an idea of which hieroglyphs may be on your cartouche.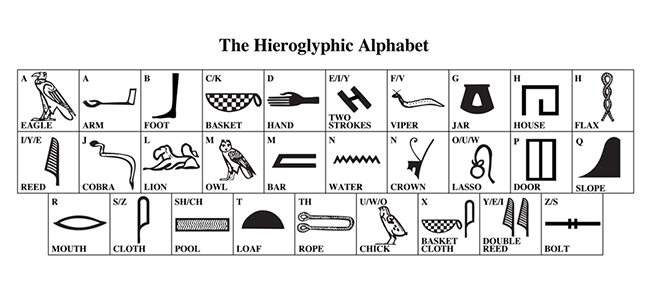 How do I add my name to my order?
In addition to indicating the size of your cartouche, you will need to complete the required "Name / Letters on Cartouche" field (beneath "Size" selection) before you will be able to add a custom cartouche to your cart. MAKE SURE THAT THE SIZE MATCHES THE NUMBER OF CHARACTERS IN YOUR NAME + EXTRA SYMBOLS. 
Add extra hieroglyphs
You may choose to add extra hieroglyphs if there is room on your cartouche. You may add one symbol at no extra cost if your name is 2, 4, 6, or 8 letters. To add a symbol to your cartouche, add the correlating number to your name in the "Name / Letters on Cartouche" field. (Ex. "OLIVIA6"). 

Will my cartouche come with a chain?
No, a chain is not included. If you would like to order an 18" sterling silver box chain $20, please be in touch. 
Shipping
Your pendant will be shipped directly from Egypt to the address you indicate during Checkout. Each pendant purchased will include an $11 flat rate shipping cost, which will appear as an "Additional Fee" attached to each cartouche in your cart; there is, therefore, no benefit or detriment to purchasing multiple necklaces within the same order or as separate orders. If you have included other items in your online order, you will be charged shipping at our standard rate for items that will be shipped to you from our store in Portland, Oregon.
Ordering multiple cartouches / Shipping to different addresses
If you are purchasing multiple cartouches that you wish to be sent to different addresses, please submit a unique order for each address.
Purchasing as a gift
If you are purchasing a cartouche for someone else, you can have the cartouche shipped directly to them from Egypt by checking "Ship to Different Address" during checkout and including the recipient's address.
When will I receive my cartouche?
Your pendant will be delivered directly to you from Egypt, approximately 3-5 weeks after purchase. December 10 is the last day to order a cartouche if you would like your pendant to arrive before Christmas! 
No time to order a custom cartouche?
Check out our Health, Life, and Happiness and I Love You cartouche pendants that are in stock now and that can be shipped promptly or picked up in-store today!